Portfolio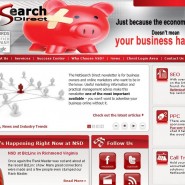 Twenty-Six Letters offers a variety of copywriting services to help your business establish its voice. Our services include SEO Copywriting, blogging, newsletter drafting, sem consulting and social media markteing campaigns. What you get is real content generated for your business, no farmed out work overseas or plug-and-chug fillers; this is copywriting at its finest.
Interested in our services? Check out the work we've done with:
NetSearch Direct: SEM agency, Richmond VA
Full site SEO copywriting
SNAP! Partners: Full-service marketing and advertising agency, Richmond VA
Draft quarterly newsletters
Marketing Buddah: SEM Specialists, Dinwiddie VA
Full site SEO copywriting incorporating zen theme
Various Blog Entries:
Client Newsletters:
NetSearch Direct: full-service search engine marketing and website development agency.
April 2009
Various eZine Articles:
Know Your Warehouse – A Guide to Warehouse Storage Systems
Stamp Out Fraud – Earn Big Rewards
Allergies and Illness – Is the Air in Your Home to Blame?
Air Duct Cleaning – Is it Worth it?
Vinyl Window Upgrades – Uncle Same Wants to Pick up the Tab
No-Knife Cosmetic Procedures – Are They for You?
Stress-Free Catering for Company Events
Tankless Water Heaters Mean Endless Hot Water for Your Home
Specialized Staffing Crisis? Head Hunters Have the Answer
Show Off Your Winter Wonderland With Great Pictures
Serious Storage Needs? Rent an Entire Warehouse